HOPE (and Joy)
I am a newbie blogger, just a beginner getting her feet wet, so I really didn't feel ready, or worthy, to choose a word of the year let along blog about it like the "real" bloggers are doing. But be that as it may, a word kept staring me in the face. I saw it on a necklace, viewed it on Pinterest, sang about it in church, read it in Scripture and lived it for the last 12 months. HOPE.
There were times this past year I felt as if I was holding on by a string. My focus was often on me and/or the challenges that were/are facing those I love. I was trusting 2013 to start anew - you know, a new word. Funny thing is, 2013 is off to a roaring start and I find I need that Hope more than ever...
As I focus on Hope once again, hold it tight, I now realize what appeared to be a tiny string is actually one of many strings woven together into a strong rope I have been given to hold. And at the end of that rope is His hands, soft and strong, waiting to catch me as I let go and surrender completely to Hope, the anchor for my soul. (We have this hope as an anchor for the soul, firm and secure. Hebrews 6:19)
My faith in God instills hope within and hope allows me to face my fears and overcome. Hope gives me a future.
A sweet friend painted a heart shaped ornament for me with a bird perched on one side and on the other the words of Emily Dickinson: "Hope is the thing with feathers that perches in the soul - and sings the tunes without the words - and never stops at all." (Thanks CTB!)
I love my friend, I love the words of Emily Dickinson, and I love that I can hold fast to Hope for yet another year. Praying you will as well.
* * * * * * * * * * * * * * * * * * * * * * * * * * * *

In the spirit of HOPE, I am sharing a link for you to meet fellow blogger, Joy, from Small Town Joy. We have an opportunity to bless her family through a giving program called One for One as they share Hope with their little "Pie". Check out the link below for more information and to meet this sweet family.

Small Town Joy: One for One
And, because I am feeling bold, I am also linking up with "real" blogger Layla from The Lettered Cottage
here
for her Word of the Year Link Party.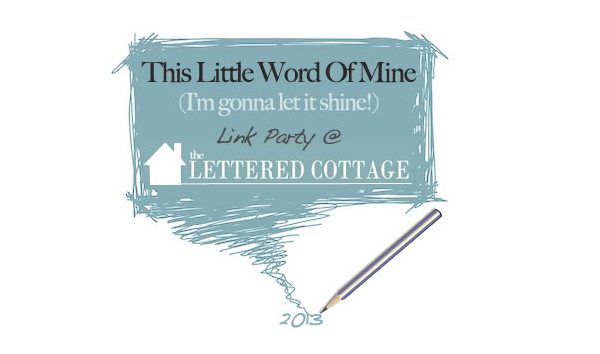 <div align="center"><a href="http://theletteredcottage.net/word-of-the-year-link-party-2013" title="The Lettered Cottage"><img src="http://theletteredcottage.net/wp-content/uploads/2013/01/Word_Of_The_Year_2013.jpg" alt="The Lettered Cottage" style="border:none;" /></a></div>