Three Word Wednesday: I get to
This is my first time linking up for Three Word Wednesday. I have read many posts when it was hosted by the beautiful Beth Stiff but never participated. Now she has passed the torch to the wonderful Kristin Hill Taylor. I decided that a new beginning for Three Word Wednesday could be a good time for a new beginning for me. So here goes…
(my Grandma Margie and her sister Marlene on Gram's 90th birthday)
My family recently experienced the loss of my Grandma Margie after a short hospitalization with pneumonia. It was rather quick but not entirely unexpected for a person in their nineties. Nonetheless, the loss still hurts. We lost my Grandpa Ray (her husband of 74 years) just four months earlier. My other grandparents, Grandma Peggy and Granddad Blaine, had passed away some years previously. I miss them all. They have each impacted my life in ways they probably never knew.
I was so blessed to have grown up knowing not only both sets of grandparents but living within 5 to 20 minutes of them all most of my life. I didn't just love them, but actually got to spend time with them on a regular basis. I got to see how they cared for their grandchildren, their adult children and their aging parents. (Yes, I was blessed to have also known three great grandmother's!) I got to observe them caring for others in the family and serving their community. I got to feel how they handled loss and pain in their own lives. I got to learn how to iron, cook, sew, bake, budget, recycle and repurpose. I got to develop my confidence, enhance my personality and find my voice in their presence.
Now, I get to hold tight to memories made. I get to share what they have taught me with my own family. I get to live life fuller, hold to faith harder and love people deeper having had them all in my life. What a legacy they have left behind…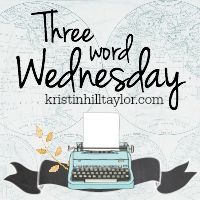 Linking up with Kristin Hill Taylor for Three Word Wednesday
here
.